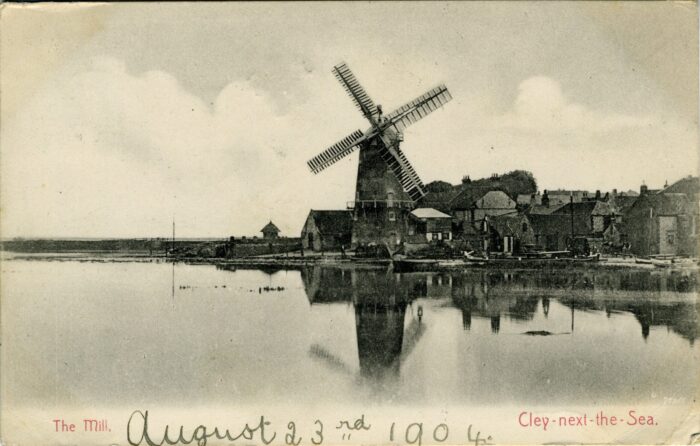 Each collection that reaches us is filled with untold knowledge and stories, but their journey is not over. To care for them from our door to the sea of knowledge in our online catalogue, we rely on your generous donations.
Our supporters are the glacier from which our work springs. We cannot go forward without you behind us. Nor can our knowledge advance without progress upstream.
Ancient milling pioneers forded the gap between teeth and stone, extracting more energy from food. Less time chewing meant more time problem-solving. Building on the success of stone, water then windmills yielded modern milling and energy sources.
New developments will be inseparable from the muscle and rock then wind and water that made them possible. The Mills Archive must keep preserving the past and present to understand the future significance of milling.

A 1952 edition of the trade journal, the Northwestern Miller, imagining the future of milling
For the last of our series of appeals, we will focus on all the work needed to make this happen. Your donations will ensure that priceless collections can continue to flow from our door to digital archive.
Headwaters
You can empower us to carve a channel through endless packaging and cataloguing costs. Only then can the life's work of collectors move through the valleys of our accredited archival service.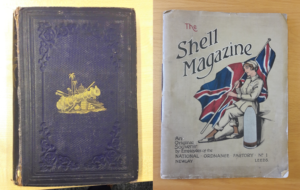 54 years of ordnance production packed into the Mildred Cookson Collection: The Mode of Manufacturing Gunpowder at the Ishapore Mills in Bengal (1863) and the National Ordinance Factory's The Shell Magazine (1917)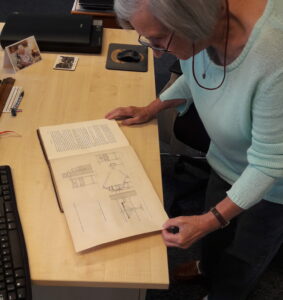 Trustee Mildred with an illustration of a 'corning machine used at Ishapore' for gunpowder production
Numerous subtopics converge to enrich the context of our milling heritage. Our founding trustee, Mildred Cookson's collection provides these tributaries, ranging from traditional crafts to colonialism, from Britain to Bengal. Mildred's book relating to Bengal gunpowder mills, written in 1862, conveys the explosive power of the region's states and empires. To continue learning about how milling unites world history, we must expand our shelves and archive for Mildred's collection and many others. With your support, different languages and countries can continue to meet at the confluence of our archive.
Inundation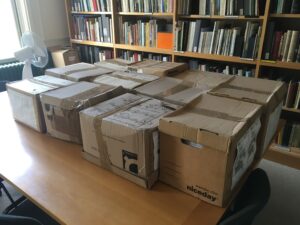 The Society for the Protection of Ancient Buildings' casework as it arrived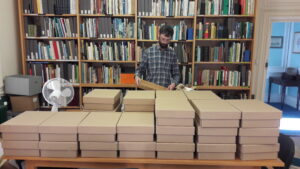 Some of the 66 new boxes of SPAB records sorted by our Archivist Nathanael
The stream of milling knowledge has widened. The banks are close to bursting. Our British Standard archival store in Oxfordshire has helped to relieve the pressure.
But we must extensively catalogue, digitise and transport items protected there so they are accessible for our users. The time and storage space needed for our Archivist to make just 30 photographs safe and accessible costs £100. New items are constantly arriving, including the records from the Society for the Protection of Ancient Buildings' Mills Section. A trickle can quickly turn into a flood of 66 boxes — less than a third of the total SPAP Collection.
Rapids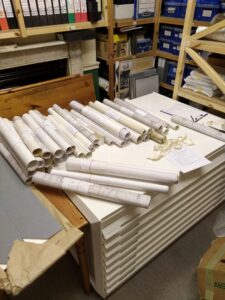 The Vincent Pargeter Collection ready to be catalogued in our safe archival store
Global millwrighting: Vincent Pargeter in Jerusalem
It is not enough to merely repackage items into boxes. Our Archivist and volunteers trust us to navigate through hidden costs, including the acid-free packaging to preserve integral work. Each item must be checked for mould, cleaned and freed from rusty paperclips or staples. This is not to mention renting the specifically climate-controlled conditions our collections require. Your donations allow the priceless records we care for to pass through these daily expenses.
Without traditional craft skills, progress would also falter on the rocks. How could modern millwrights and engineers innovate without the currents of accumulated knowledge to guide them? The renowned millwright, Vincent Pargeter, understood this well.
He trained the future generation of millwrights and lent his expertise to repair windmills, relishing the challenge of fully refurbishing Baker Street Mill, Essex. This determination ensured that the trade of millwrighting and the mills themselves would continue safely downstream. We must honour Vincent's work by meeting the daily costs of its preservation.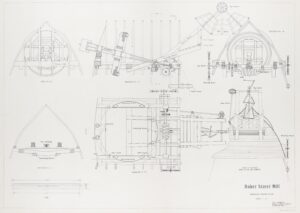 Some of Vincent Pargeter's plans for Baker Street Mill
Open ocean
Benoît Fourneyron's turbine design in our digital archive
We have rehoused Vincent's plans in acid-free packaging and uploaded many of them into our digital archive, making his work available for everyone, forever. However, sustaining our online catalogue costs £6,000 a year, let alone the time to scan items and catalogue them into our digital catalogue. We can digitise around 8,000 items a year, providing vital work experience for volunteers.
What better topic to cut one's teeth on than milling — the estuary which has fed technological advancement? Looking to reinvent the waterwheel, the French engineer, Benoît Fourneyron, designed one of the first water turbines, increasing the efficiency of a forge in Pont-sur-l'Ognon in 1827. By finding new ways to harness the river, his designs spread to both sides of the Atlantic in the nineteenth century.
Our digitised collections allow us to quickly plot this course: hewing prehistoric rock for millstones, gushing through waterwheels and gaining speed with turbines. Milling has taken us to a sea of potential topics. Hydroelectricity is as much the legacy of mills as the global history of gunpowder production, millwrighting and much more. Our digital archive has the power to let their histories flow to every corner of the world.
The water wheel revolution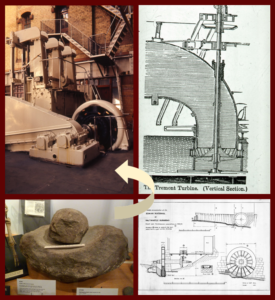 Anticlockwise from the bottom left: a neolithic quern, the reconstruction of a Roman watermill at Haltwhistle Burnhead, Uriah Boyden's nineteenth-century water turbine, Manchester's Hydraulic Power System in the People's History Museum
But we could not have reached the ocean without our source. Your donations make it possible to expand for new collections, preserve them and make our heritage accessible globally. Help the world to learn more about mills and milling, the foundation of our civilisation.
---
Click here to go back to the appeal homepage and browse other ways you can help make our milling heritage accessible.
Your donations can overcome the costs obstructing priceless collections. Help us to convey them through our doors and to the public through our archive.
Alternatively, you can find information about donating by cheque or bank transfer by clicking here.