Hello all – I'm Claire and I started in my role as Learning and Engagement Manager on the Heritage Lottery Funded 'From Quern to Computer' project here at MAT at the start of October 2015.  I previously worked here as a volunteer during a summer break from Uni, so it's been lovely to return to the wonderful team and collections here.
My first few weeks (I'm working on Mondays and Tuesdays) have flown by in an exciting whirl of meetings and introductions, as I get to grip with the objectives of the project. I'll aim to keep you all up to date every few weeks as we go along.
The first aim of the 'From Quern to Computer' project that I am currently working on is to create a fully interactive and online timeline to tell the story of the history of flour milling. This will be an engaging educational resource; drawing on our existing content and catalogued collections. We'll also be looking to link to external content and encouraging you all to get involved by suggesting key dates and other information to add to the timeline. I can't wait to share the early stages of the time line with you in the coming months!
The overall aim of the project is to spread the knowledge of the history of flour milling – something hugely relevant to all of us in providing our daily bread – to different groups of people, including those who would not normally be exposed to such knowledge, on a local, national and international scale, and encourage people to get involved in shaping the story.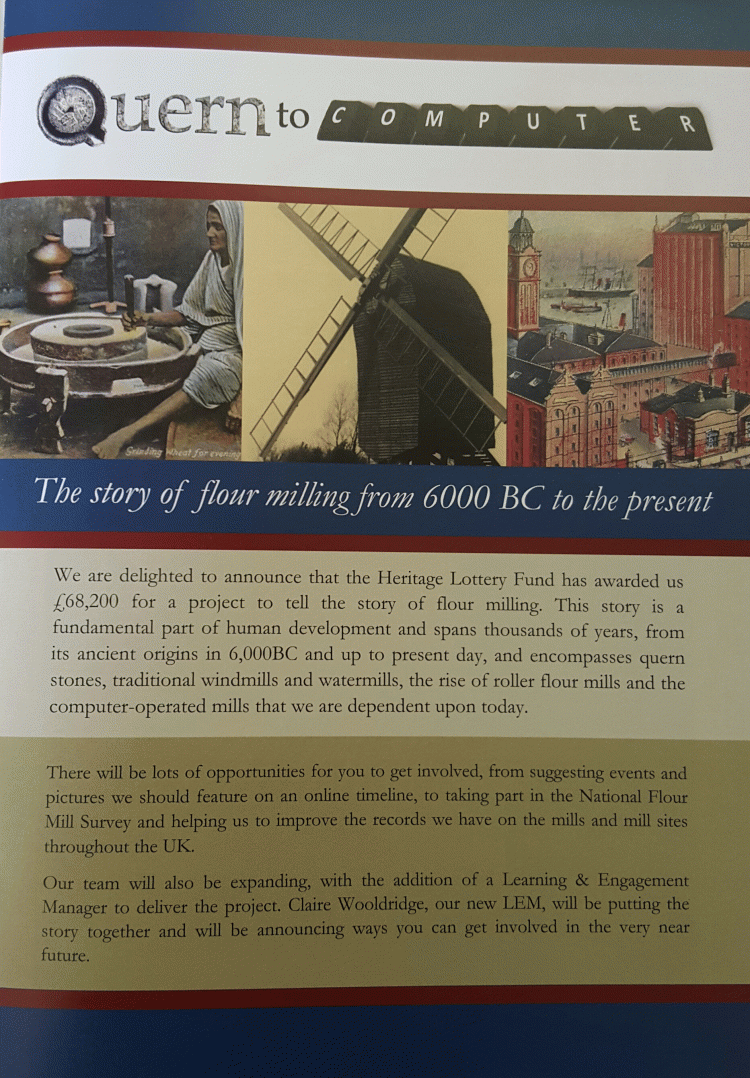 The project got a whole page in the latest issue of Mill Memories!
I'll be sure to keep you updated – but please do get in touch with me at claire.Wooldridge@millsarchive.org if you have any questions.